Designing for a long lifetime from the start with Drizzle
When developing a sustainable product, its lifetime is an important parameter. Drizzle, a small Danish company, knew that when it sought to develop a household appliance for extracting cannabis oil.
Challenge
Drizzle needed knowledge and input regarding robustness and lifetimes as it sought to develop a machine for extracting cannabis oil.
Solution
FORCE Technology assisted with requirements specification, design review and assorted testing throughout the development process.
Result
The finished extraction machine is designed to have a long lifetime, and prepared for lifetime extension.
For a product to be sustainable, designing it to have a long lifetime from the start is important. Additionally, manufacturers should create opportunities to extend a product's lifetime in the usage phase and prepare the product for re- and upcycling.
Product lifetimes: key to resource utilisation
Giving a product a long lifetime in its original form is the best way to make the most of the resources – materials and energy – used to manufacture it. For this reason, a proper, precise requirements specification is key.
The requirements specification needs to cover functional, usage, software, and regulatory requirements, including CE (EMC and safety) and circular product requirements, such as ROHS (Restriction of Hazardous Substances) and WEEE (Waste Electrical and Electronic Equipment).
A safe way to extract cannabis oil at home
Drizzle is the world's first manufacturer of fully automated household appliances for extracting and purifying cannabis oil from legally grown hemp. The small Danish company was founded in 2017.
"At Drizzle, we wanted to develop a product with a long lifetime that also came with opportunities to extend its lifetime. On top of that, we wanted it to be easy to scale up production as demand grows, without the risk of fatal warranty costs," explains Peter Selmer Gade, Drizzle's CEO.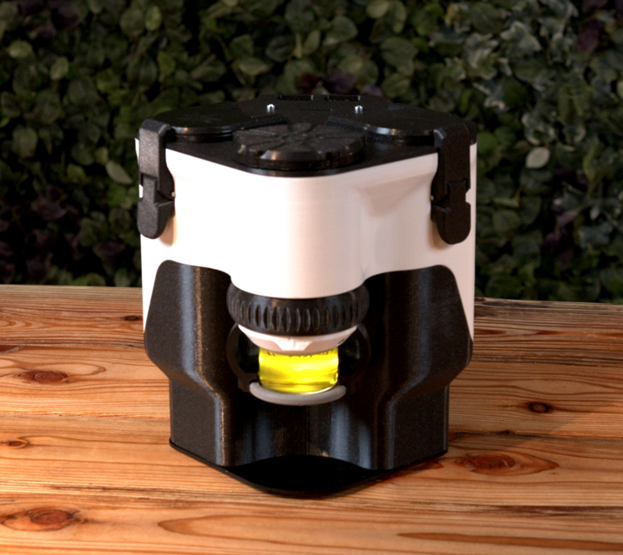 A solid foundation in specifications and testing
Together with FORCE Technology, Drizzle prepared a requirements specification that became a significant foundation for the actual development of the extraction machine.
The design review included an impartial assessment of the newly designed machine in order to determine its ability to operate in relatively harsh home kitchen environments. 
"With FORCE Technology's help, Drizzle conducted several reviews and exploratory tests, such as a thermomechanical HALT (Highly Accelerated Limit Test). This gave us a good basis for assessing factors like the robustness of 3D-printed parts. We also had vibration and EMC tests performed on the product," Gade says.
A sustainability screening could have also assessed the sustainability of the design early in the development process. However, this service was not among FORCE Technology's offerings at the time.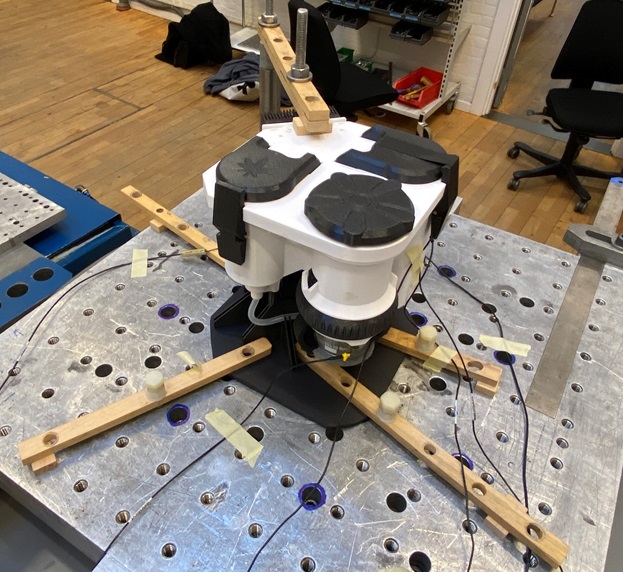 Reducing material waste with 3D printing
Drizzle's extraction machine is assembled from 3D-printed components. This includes the extractor itself, which forms a flow path.
The components are printed from PETG (polyethylene terephthalate glycol) with a special surface that is needed for food safety approval. The use of 3D printing makes it possible to render complex geometry while significantly reducing wasted materials compared to a traditional moulding process. 
Drizzle has also considered using recycled plastic in the future; for this to happen, the plastic will need to be approved for food processing use. The exploratory tests will serve as a basis for comparisons when making this decision.
Modular construction for a longer lifetime
Drizzle's product is assembled from modules. Because components with limited lifetimes can be replaced, this design prepares the product for lifetime extension. Components that wear out over time, such as pumps and valves, are divided into separate modules that can easily be replaced.
Furthermore, when Drizzle receives a used module, the company also gains valuable data on component wear processes, enabling it to optimise future products. Future software updates are planned to achieve maximum safety. 
Lastly, Drizzle has created a compliance strategy to address legal requirements, such as CE marking.
At Drizzle's side every step of the way
Now, Drizzle has a product where sustainability is considered throughout the process, and which can therefore be part of a circular economy. It achieved this by not only designing the product to have a long lifetime from the start, but also by choosing a modular construction that makes it possible to repair and update the machine instead of replacing it entirely.
FORCE Technology has been a part of the process from requirements specification development all the way through to product verification.
"Working with FORCE Technology helped to keep us on track at Drizzle. We were mutually revising our expectations with well-defined milestones throughout the project," Gade says.
In terms of optimising product resources, a possible next step for Drizzle is to look into re- and upcycling for polymer materials and components.