QAL 3 software continuously monitors and logs the status of your meter during operation
By combining FORCE Inspect QAL with regular AMS calibration, you comply with regulatory requirements for independent sensor monitoring, and your documentation will always be available online.
If you are responsible for operations or environmental issues at a large power station or industrial facility, you need to know that the AMS (automated measuring system) sensors at your facility are in working order and in compliance with EN 14181.
FORCE Inspect QAL, a QAL 3 application from FORCE Technology, lets you prepare and submit official documentation to confirm that your facility continuously adheres to the QAL 3 requirements in EN 14181.
Digital quality assurance for a complete overview of facility emissions
All waste incineration facilities, power stations, and large industrial facilities that are required to monitor emissions using EN 14181-compliant AMS systems must also independently monitor the status of their AMS systems (QAL 3).
FORCE Technology has developed an online, web-based software solution that allows you to monitor all of your meters QAL3 data virtually, enabling you to instantly take corrective action if a sensor is not operating correctly.
Here's what you get with FORCE Inspect QAL:
Continuous information about the working status of your meters
Graphs provide an easy-to-digest overview of recorded zeroes and span values for each parameter, so you always know which parameters you need to focus on. An alarm will also notify you if a sensor reports a value outside of your specified control limits. 
A complete overview of your facility's meters
All of your QAL3 data is online, so you can access data for all of your facility's meters at any time. There's no need to be physically present at any given facility to access data—view data for any facility wherever you may be. Sharing files from the system is easy, and multiple users can use it simultaneously.
Easy access to regulatory documentation
Data from FORCE Inspect QAL is easy to copy and send to government agencies. Documenting your independent meter monitoring and adherence to established limit values takes no time at all.
Emissions measurement data whenever you need it
Beyond preparing documentation of QAL 3 independent monitoring, the system can also store QAL 1 certificates, QAL 2 reports, and annual AST testing results. In short, all documentation related to your facility's emissions is at your fingertips.
Additionally, you can view the following meter properties at any time:
measurement range
uncertainty
most recent deviation
correction factor
FORCE Inspect QAL is based on the concept of the CUSUM control chart. The software is available in four languages: Danish, English, Swedish, and Norwegian. The user-friendly interface makes managing multiple facilities at once easy and intuitive.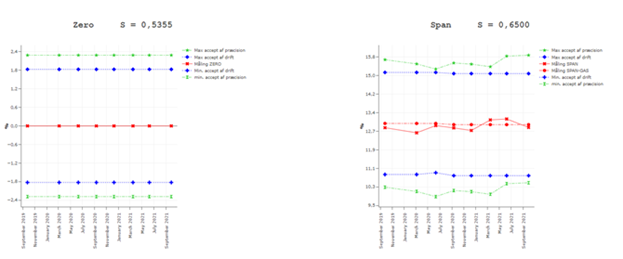 Get in touch with us to learn how quickly you can start using FORCE Inspect QAL at your facility.
Order QAL 3 software by filling the form