The hybrid test bed of the future
Access to innovative hybrid test beds, in the form of physical and virtual testing, demonstration, and development facilities, will ensure strong Danish innovation.
Denmark as a test bed country is a prerequisite for growth and a green transition 
Danish companies are in the midst of a colossal transformation process towards increased digitalisation. This transformation is driven by virtual models and development-phase simulations, as well as sensors, IoT, AI, and digital technologies in products, manufacturing operations, and processes. These new approaches amplify the possibilities for real-time data collection and testing, and for supplementing physical tests with virtual ones to a greater extent, ensuring that new, innovative products can reach the market faster and more reliably.
Access to testing, development, and demonstration facilities is therefore crucial for Danish companies to develop next-generation competitive products with a shorter time to market, as well as to create and secure jobs and exports and to support the green, sustainable agenda.
A large number of growth teams, the Danish government's climate partnerships in areas such as energy and utilities, life science, waste and water, circular economy, Confederation of Danish Industry, Dansk Metal, and The danish society of engineers conclude that access to testing and demonstration is critical to the Danish industry's potential for a green transition and growth in the future.
In this project, entitled "The hybrid test bed of the future" we will contribute to giving Danish companies strengthened access to testing, development, and demonstration facilities via virtual test beds, in synergy with the digitalisation of existing physical testing facilities and the monitoring of products in operation and surrounding ecosystems. In doing so, we will bolster the innovative efforts and competitiveness of Danish companies and contribute to Denmark becoming a testing pioneer country.
Innovative testing, demonstration, and development facilities as a hybrid test bed
Using the latest digital advances within IoT, simulations and virtual models, digital twins, machine learning, and AI, our vision is to create the hybrid test bed of the future based on three key testing methods that are closely intertwined: 
Advanced physical test beds
Virtual, simulation-based tests 
Testing of products in operation, in their actual use environments.
This project's ambition is to further develop the digital infrastructure in testing, demonstration, and development (TDD) facilities. For this reason, we will be building an innovative TDD facility as a hybrid test bed, establishing a link between the three core testing methods and digital interaction with companies and their products.
The hybrid test bed will thereby leverage both physical and digital infrastructure, continuous digital access to testing data throughout a product's or system's life cycle, and a combination of historical and real-time data.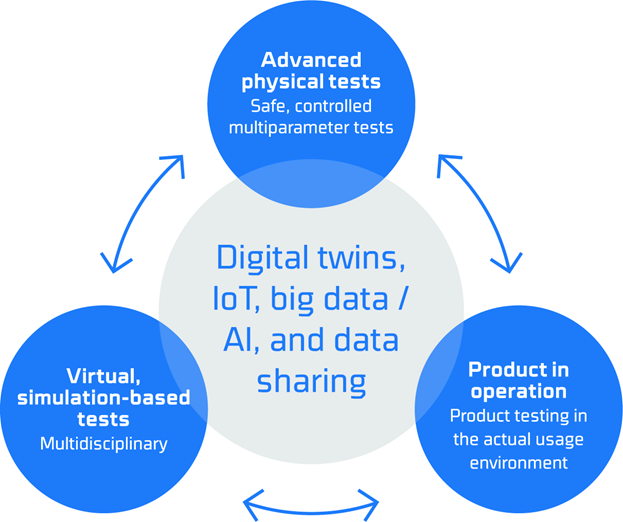 Hybrid test beds to support frontrunners and help novices
The programme focuses on supporting frontrunners in granting Danish industrial companies access to hybrid testing to sustain their digital efforts and capacity for innovation. There is an additional focus on the potential that lies in the many companies still considering or struggling to get started with a digital transformation, and which need inspiration and tools.
The programme's beneficiaries, then, are based broadly in many sectors, but they will initially be anchored in specific demonstration projects based on the following Danish strengths:
Environmental technology
Energy technology 
Life science and welfare technology
The electronics and appliances industry.
UN global goals
The development project supports UN's global goal no 9, Industries, innovation and infrastructure.