Incineration plant operations and optimisation
We offer consultancy within operation and control as well as technology and product development for incineration plants ensuring your plant optimum operation and energy utilisation.
Increasing focus on energy utilisation and stricter environmental requirements
The political agenda is characterised both nationally and internationally by limited resources, providing of fuels, pre-treatment/sorting, higher efficiency and stricter environmental requirements. 
Besides an expectation of continuously increasing energy utilization of the incineration, this also means continuously stricter environmental requirements on the incineration plants. Sorting and recycling have got a top priority on the EU agenda with the revisions of the Waste Framework Directive and it is furthermore an area which gains more and more attention from the consumers. 
To a still larger extend it is therefore a question of adjusting the plants to changes in the fuel/waste composition through operational optimisation and control of the plant. Hereby you ensure an energy utilisation that is as high as possible, but also that the environmental requirements on emissions to the environment are kept and minimised.
Our services to incineration plants
We offer a number of consultancy services and products for optimisation of operation and control of incineration plants:
Development of training simulators
Tailored training simulators, which simulate operation at a specific plant or with a specific control system. It gives your employees the possibility of training operation under different conditions thus making the operation more efficient
Training of operators
We give your operators better qualifications and ensure optimised operation. 
Consultancy on technology and product development
Consultancy and test in connection to new development or optimisation of existing products and technologies for incineration plants, for instance boiler design. We ensure that you choose the most cost-effective solution for optimisation of the operation.
GrateVision® camera technology
Self-developed camera system and online image analysis which can be adapted to and mounted on all grate-fired incineration plants (biomass or waste), either alone or together with our control concept giving important information about the operation and performance of the plant. You get the possibility of controlling the combustion more precisely and hence optimising the performance of the plant. 
Consultancy on corrosion
Self-developed corrosion probe, which gives you a thorough overview of the extent of the corrosion at your incineration plant. Furthermore, we can predict the future corrosion development at the plant giving you the possibility to react on a possible corrosion before it becomes damaging. 
Optimisation of combustion and flow condition in combustion chambers and boilers 
Troubleshooting
Assessment of fuels and residues
Partnerships within development of technology and products for incineration plants
We offer partnership on development of technology and products within combustion and can contribute with our decades of knowledge of all phases from idea generation to the finished product/technology.  
Our competences within incineration plants
FORCE Technology has many years of experience within incineration plants being both consultants for and in partnerships with Danish companies as well as energy and environmental authorities. The latest knowledge within this area is essential in our work and we ensure this through a close co-operation with Danish and international companies, networks, public authorities and development projects. Therefore, you get direct access to detailed and updated knowledge of combustion technique, sensors, knowledge of materials, corrosion etc.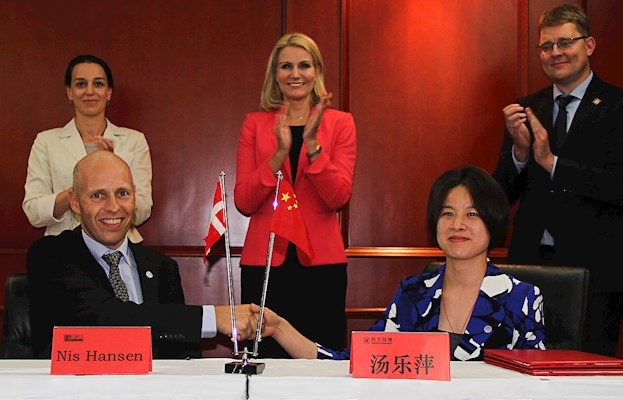 Case
Signature paves the way for clean air above China
Supply of Danish clean air technology in China is agreed between Tongfang Environment and FORCE.