Structural health monitoring system for offshore wind turbines
A structural monitoring system for offshore wind turbine foundations provides you with a status of the health and condition of the structure and an early warning of possible flaws.
Condition monitor your structural investment by use of strain gauges, accelerometers and other sensors and avoid expensive repair
If you, as wind turbine owner, investor or operations manager, wish to monitor your investment and offshore structure, the foundation and the rest of the wind turbine should be monitored for e.g. loads, vibration, fatigue stress, temperature and corrosion.
Thus, you ensure that the turbine maintains its functionality, and you avoid tremendous costs regarding repair and retro-fit.  
Preventive or planned maintenance is the most frequently applied maintenance strategy within the offshore industry. If you apply this strategy to your offshore wind farm, you may expect that the wind turbines maintain their functionality in the prescribed design life.
However, the wind turbine industry has experienced that this is not always the case. While other parts of the wind turbine often reveal flaws by coincidence, it turns out that it is different in the foundation.
Advantages of structural health monitoring systems:
Early warning of flaws enables you to act and correct in time, thus avoiding possible serious flaws in the structure.
Detecting the cause of flaws enables you to prevent future flaws, and avoid flaws in other similar wind turbine foundations.
Use of data for corrective actions and for optimisation of sub-components and design.
Online measurements of functionality of the cathodic protection,"CP". 
Condition monitoring contributes to design optimisation
The damage in the structural part of the turbine is often caused by unforeseen loads on the structure or external factors, which, unfortunately in some cases, have entailed very large and costly repairs. A structural health monitoring and warning system in the foundation may have given notice of these serious flaws in time.
Condition monitoring systems can e.g. measure the following:
Dynamic changes
Eigenfrequency
Mechanical displacement
Corrosion
Functionality of cathodic protection
Erosion of the sea floor, "Scour".
By installing a structural health monitoring system in some of the foundations in an offshore wind farm, you get the opportunity, to systematically evaluate and assess the gathered data via an ethernet connection. Perhaps your maintenance plan needs correction to maintain optimal operation, or maybe you need to act more drastically to avoid further damage in the structure.
Operations data for this often-inaccessible part of the turbine is invaluable for both design optimisation and for the learning process in the conditions, which are applicable on the sea floor and at these areas of the structure.
Customer-specific condition monitoring systems
Structural health monitoring systems are all customer-specific and in cooperation with you, we design and optimise a condition monitoring solution that is adjusted to your needs and wishes for information, and simultaneously agrees with your budget.
Further to the fact that FORCE Technology can design, supply and install unique condition monitoring systems for wind turbine foundations, we can also be of assistance with the subsequent data processing, evaluation, assessment and consultancy to those of our customers who do not hold their own staff of internal specialists.
With our unique structural health monitoring systems and our comprehensive specialist knowhow of materials types, corrosion, fatigue stress and expected life calculations, we will give you the best possible advice. 
Contact us to hear how we may help you.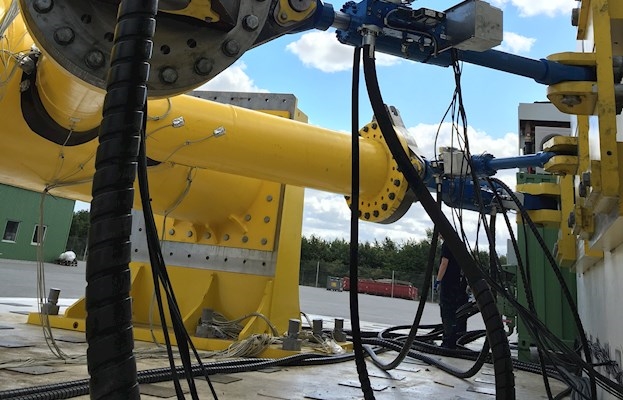 Facility
Lindoe Component and Structure Testing A/S
Lindoe Component and Structure Testing A/S focuses on testing of components and systems mechanically