The wind energy value chain:
Step 4: Operation and maintenance
The wind value chain starts with design and testing before production, installation, operations, and decommissioning. Here are some issues we can help you with during the operations phase.
How do you reach long-term success with maintenance and inspection strategies? 
Operation and maintenance costs make up a significant part of the total annual costs of a wind turbine. During the first five years of operation, the turbines would all be under warranty, but after that point, the burden of maintenance falls on the wind farm owner. 
Preventing turbine failure using forecasts is vital to maintaining the installation and reducing downtime. If you take good care of the turbines, they will have a longer commercial life, and you will protect the integrity of and make the most of your resources. 
Identify failures to limit and avoid damage 
Most turbine failures are related to fatigue. Failure analysis can help you discover what's wrong and how to prevent it from happening again. 
This analysis often involves a material examination and a corrosion examination, and they are closely connected, as the strength and microstructure of the material are crucial to the corrosion resistance. 
You can benefit from a corrosion examination if you have questions like: why does it corrode? Which service life can I expect? What happens if the process or the environment changes? 
If your product corrodes, we can examine the nature of the corrosion mechanism and often find that even a small change can prevent damage and ensure cathodic protection. If you want to know the expected service life of your product, we can help you with an assessment. 
Avoid downtime with the right maintenance and monitoring approach
The wind industry's most frequently applied maintenance strategy is preventive or planned maintenance with the help of monitoring systems. Sensors at critical points on each turbine send various data back to the wind farm's maintenance team. This data includes information on lubrication levels, vibration, temperatures, and foundation displacement, all of which cbe used to plan maintenance.
If you use this strategy for your offshore wind farm, you may expect the wind turbines to maintain functionality in the prescribed design life.
We offer customised inspection and preventive maintenance management solutions with state-of-the-art methodologies and special tools to ensure cost-effective operations.
Regular and appropriate inspection helps maintain your installation
Early detection of production flaws minimises your costs for subsequent improvements and repairs. Wind power inspection with non-destructive testing techniques (NDT) can help secure your structures and reduce downtime. It is fundamental to ensuring the safety of assets for personnel, the environment and investors.
We are a world-leading NDT supplier and offer customised inspection solutions – onshore, offshore and subsea. We deliver NDT services to all industries during fabrication, in-service, shutdowns, and maintenance.
Services within the wind turbine industry include examining blades and components with digital radiography, our in-house developed automated ultrasonic systems, or ensuring deliveries by client/third party supervision. Our qualified inspectors can also carry out contractor inspections on your constructions with drones.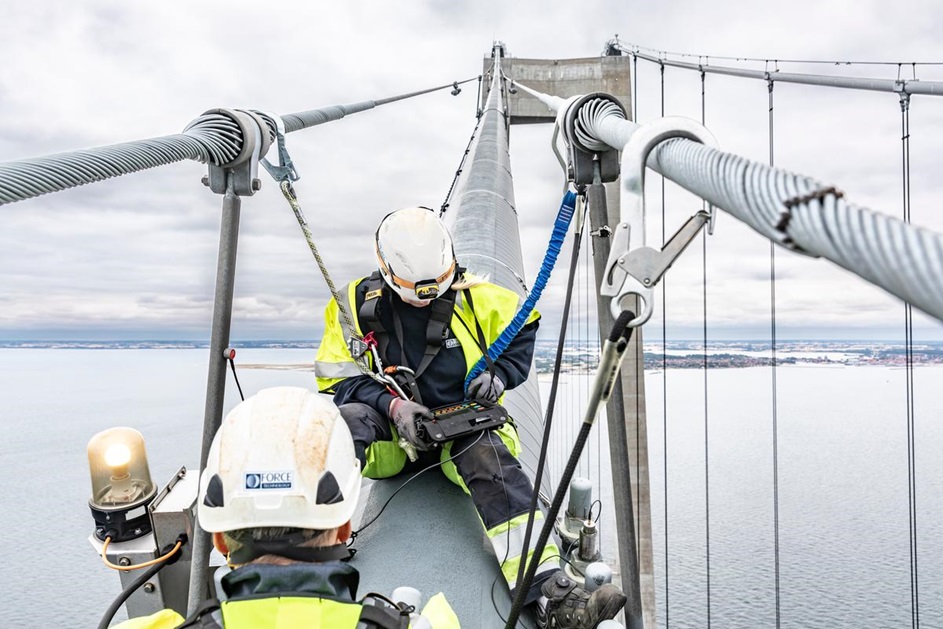 As documentation of our testing and inspection work, an electronic report is issued and made available to you through our online NDT reporting service. 
We have experts within all standard NDT methods and hold various equipment available for inspections supporting asset integrity management. 
Fast, flexible, agile and ready to adapt  
Our interdisciplinary team delivers ultimate quality. With more than 1,000 employees across 30 offices in 6 countries and a dedicated local partner network, we are a market leader in specialist consultancy, testing, inspection and training.  
60+ years of experience
Many companies offer integrity management, experimental tests and simulations, non-destructive testing, failure analysis, calculations, design verifications or condition monitoring. What is unique about us is that we offer all these services: We are a one-stop shop for the cross-disciplinary skills and facilities you need to succeed with wind energy, from practical welding to advanced, strategic advice – and we are easy to work with.

We are accredited by DANAK, the Danish Accreditation body. This means that we are continuously assessed against internationally recognised standards to demonstrate competence, impartiality and performance capability. Accreditation is assurance that the products comply with the applicable rules. Our accreditation is your guarantee of our unique position.