SenseLabOnline
SenseLabOnlineTM web application helps you run fast and reliable listening tests over the internet or in the lab.
SenseLabOnline 3 months license
To accomodate the current and changed needs of many of our customers, we at SenseLab offer a flexible solution to remote listening testing of your audio products through SenseLabOnline.
Usually, a license covers 1 year for 2 administrators. For a limited period of time, we offer a 3 months license to accommodate businesses in this special situation, with a 14-days trial period.

The license includes administrator entrances for 6 persons for
2.000 Euros (DK server)
3.000 Euros (Regional server)
Contact us to activate a 3 months SenseLabOnline license.
SenseLabOnlineTM  is available in solutions ranging from standard compliant ITU-R test methods like MUSHRA to advanced fully synchronized 4k audio/visual testing using VR headsets and multichannel loudspeaker reproduction.

Web application for listening tests
SenseLabOnlineTM enables professional and efficient evaluation of audio. It is suitable for product development in industries such as:
Telecommunications
Audio coding
Headphones and loudspeakers
Hearing aid industry
By using SenselabOnlineTM, you can easily design and conduct a range of standard compliant listening test recognized by the audio industry in a fast, reliable and easy-to-use way - thereby saving time and money.
An in-house tool that facilitates listening tests
SenseLabOnlineTM employs best-practices within execution of listening tests, including enabling double-blind experimentation, automatic or custom randomisation of stimuli, precise playback, optimised user interfaces, easy handling of assessors, setup of test sequences, and automatic statistical analysis of test data and assessor performance. 
The application runs in a browser utilizing either the newest web-based audio interface, WebAudio, tested extensively to ensure high quality audio reproduction or via the proprietary advanced sound player with full hardware control over ASIO drivers.
SenseLabOnlineTM is delivered with templates for attribute tests, preference tests, discrimination tests, suitability tests and other test types. Among the templates are a selection of commonly used ITU-compliant listening test methods.
Once you have registered as a user of SenseLabOnlineTM, you can sign in and build a range of standard compliant, as well as custom listening tests.
Because the system is built to run in a HTML5 compatible browser, you can distribute a listening test across physical locations (depends on internet connectivity). All data transformation is done in Secure Socket Layer (SSL), and the application is approved with industry standard code signing certificates.
Available test types of SenseLabOnlineTM
SenseLabOnlineTM offers a number of listening test templates that are easy to configure:
ITU-R BS.1116-3
ITU-R BS.1534-3 (MUSHRA)
ITU-T P.835
ITU-T P.800 ACR/CCR/DCR
Triangle test (ISO 4120)
Pairwise comparison (ISO 5495)
ABX/Duo-trio test (ISO 10399)
Multiple Stimulus Comparison Rating
Adapted sensory evaluation methodologies (attribute testing)
Ideal Profile Method (IPM)
Annoyance and suitability test
Available standard solutions of SenseLabOnlineTM
SenseLabOnlineTM
The application is available in different versions depending on your needs.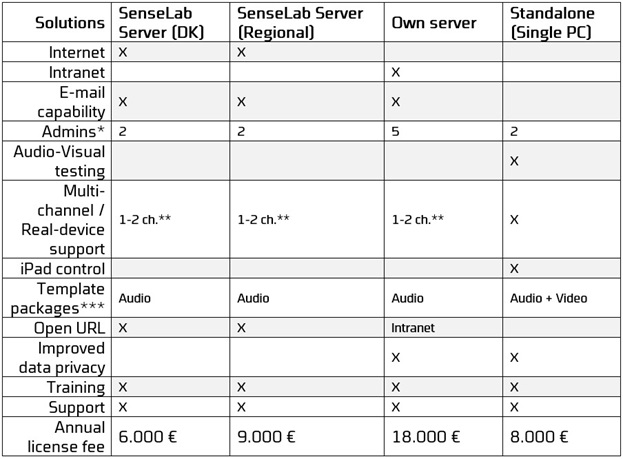 Technical specifications for SenseLabOnline